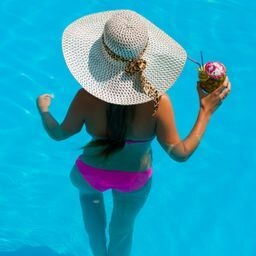 In just the past few years, electronic devices such as smartphones, tablets, laptops and others have become an important part of most people's lives. It's hard to imagine being away from these devices for any period of time.
Pool time is no different. While you are lounging next to your pool — or even in the water — you still want to be able to check your emails or social media accounts, make phone calls, or text or chat with friends.
Water and Electronics
Unfortunately, most electronic devices can be damaged or even destroyed if they get wet. So dropping your smartphone or tablet into the water could ruin your device.
Protecting your devices simply requires a little additional caution. If you take these few simple steps, you can prevent your smartphone or other device from becoming damaged or ruined.
Keep Your Distance
The best approach is to create a "No Electronics Zone" around the water of your pool, hot tub, or other areas. Use your devices all you want in the comfort of the lounge chair or while relaxing under the patio cover. But don't take them near the water.
Even the smallest slip could result in your device becoming usesless.
Don't Believe the Hype
Some devices claim to be waterproof. There are even cases you can buy that supposedly will protect your phone or tablet if you drop it into the pool.
It's a good idea not to test to see if they work. They might not. And if they don't, your device is out of service.
Waterproof containers are like an insurance policy. You wouldn't smash your car into a wall just because you have car insurance, would you? So don't test the limits of your waterproof containers just to see if they work.
This summer, you can have fun around the pool while still enjoying access to the Internet. Stream movies, text with friends, and check your social media. Just do it all from a safe distance from the water.