WEEKLY POOL SERVICES
• Vacuum bottom of pool
• Brush the walls
• Clean the tile
• Skim the water surface
• Clean the skimmer basket
• Clean the pump basket
• Test water and balance
• Clean filter monthly or as needed
POOL LEAKS
A leaking pool can cause structural damage in the concrete of the pool. The pool water has different kinds of chemicals that can leak
into the concrete of the pool resulting in hundreds or thousand repairs, please visit our LEAKS page.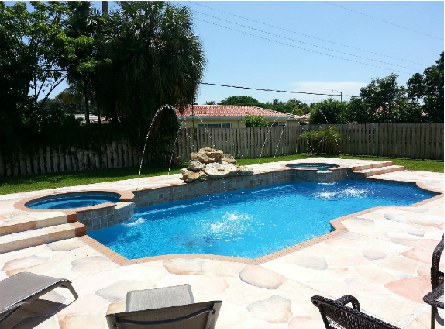 SHOCK TREATMENT
A shock treatment is sometimes necessary to burn off swimming waste and clarity.
ACID WASH
When you have stains on your Diamond Brite® that cannot be removed with basic pool maintenance and brushing, or if you are
unhappy with the overall look of your pool finish, a drain and ACID WASH may be necessary. It is a time consuming process, but most customers are very satisfied with the brighter appearance of the pool.
An ACID WASH process may include:
• Drain water from the pool
• Scrub to remove algae and leaves
• Remove all debris from the bottom
• Chlorine-bath the whole pool
• Apply acid water solution
• Drain acid water solution
• Clean the entire pool

GREEN-TO-CLEAN POOL TREATMENT
New homeowners and bacteria to restore water quality.